Service-Plants Eternal-Light Ayurveda Aromatherapy Oil 30ml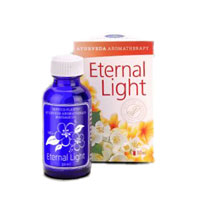 Eternal-Light Ayurveda Aromatherapy Oil is a perfect blend of frangipani, jasmine and sandalwood to invoke the devotion of ancient temples and the Light of Asia.
Brings inspiration, serenity and focus to the mind. Blended from 100% natural carrier and essential oils. Perfect for dry or sensitive skin. Specially developed as a tridosha formulation that is balancing to all doshas - vata, pitta & kapha.
Ingredients: Sesame Oil*, Sweet Almond Oil*, Olive Oil*, Castor Oil*, Grapeseed Oil*, Frangipani Essential Oil, Jasmine Essential Oil, Indian Sandalwood Essential Oil & Vitamin E Oil.
*Organic ingredients.
Uplifting & energising to the body
Calming to the mind and emotions
Brings focus to the heart and stillness to the mind
Contains only organic base oils, pure essential oils, with added natural vitamin E oil. No synthetic or artificial preservatives or fragrances. Store away from direct sunlight and heat, below 30°C.
Made in Australia from local and imported oils.
For external use only. Apply to the skin, hair and feet. Best before meditation.