Synaptol is an FDA-registered OTC medicine that may be used with other prescription or OTC medications, and is safe for use in children and adults
Inattention, hyperactivity and impulsivity - today, these symptoms are known collectively as a condition we call ADHD. In fact, the term has become so popular, whether or not we've been officially diagnosed as such, we may say something like we're "so ADHD today!" What we're really saying is that we're unfocused, hyperactive, or just plain not performing at our best. Maybe we're distracted by something happening outside of school or work, or we just haven't been getting the sleep we need.
Maybe we have been diagnosed with ADHD and it's just not being well-managed. Either way though, whether we meet the criteria for a true ADHD diagnosis or not, lack of focus is a real problem that can affect every aspect of our lives. It needs to be addressed. The only question - how? If we don't meet the criteria for an ADHD diagnosis, the common stimulant medications aren't really safe, let alone an option for us. And if we have been diagnosed? Those medications, with the risks they carry, may still not appeal. Fortunately, there are other ways.
Natural homeopathic Synaptol works with, not against, your body to relieve inattention, hyperactivity, and impulsivity. And unlike stimulant prescriptions, Synaptol is safe for both adults and children: whether you have one or all symptoms, whether used alone or alongside other medications, and whether or not you meet criteria for an ADHD diagnosis. Synaptol's multi-targeted homeopathic blend offers mental, emotional, and physical focus symptom relief that adapts to fit your unique needs.
---
Focus Problem: Mental/Inattention.
Mental or inattentive-type focus problems can occur for a number of reasons. Those with diagnosed ADHD will certainly see these symptoms, but common lifestyle factors like an unbalanced diet, irregular sleep, and stressful events can contribute, and conditions like learning disability, OCD, thyroid problems, and autism spectrum can affect our ability to focus as well. Whatever the source though, when inattentive-type focus symptoms arise, it's important they be addressed. Our ability to fix attention, concentrate, and retain information affects not only school and work performance, but our relationships with friends and family as well. Regardless of cause, Synaptol works safely and naturally to target the full range of mental or inattentive focus symptoms you may be experiencing.
Focus Problem: Emotional/Impulsivity
While there's a tendency to think of focus as a purely mental matter, our mood actually plays a significant role in our attentiveness. In fact, emotional or impulsivity-type focus symptoms are among the most common complaints from people diagnosed ADHD. Besides ADHD, other conditions causing emotional or impulsivity-type focus symptoms include anxiety disorder, depression, oppositional defiant disorder, bipolar, thyroid problems and common lifestyle factors like diet, sleep, and distressing events. Feeling on edge, stressed, anxious, and irritable distracts us and hurts our ability to handle the tasks at hand. Regardless of cause, Synaptol works safely and naturally to target any emotional or impulsivity focus symptoms you may be experiencing.
Focus Problem: Physical/Hyperactivity
These days, the once popular term "ADD" (as opposed to ADHD) is no longer used in the medical community. Those diagnosed with Attention Deficit are simply ADHD - predominately inattentive, ADHD - predominately hyperactive, or ADHD - combination. This said, it's still true that many with (and without!) ADHD suffer with physical or hyperactive-type focus symptoms. Besides ADHD, other conditions causing physical or hyperactive type focus problems include tic disorder and bipolar, and even common lifestyle factors like excess sugar in the diet can contribute. While a good amount of energy is needed to help us complete tasks, too much can have us feeling restless, and hurts our ability to sit patiently and focus when needed. Regardless of cause, Synaptol works safely and naturally to target any physical or hyperactive focus symptoms you may be experiencing.
---
Symptom Relief That Fits You: Synaptol's Multi-Targeted Homeopathic Blend
What do YOUR focus symptoms look like? Synaptol's unique formula adjusts to fit your unique needs.
Though we may think of focus as a single issue, it actually involves a variety of factors - mental, emotional, and physical. A good, healthy balance in all three areas is the key to success. The thing is, though, those of us with focus problems like ADHD aren't all alike in our imbalance. While issues can be evenly divided between all three areas, it's common that we struggle more heavily in one or two areas compared to the others.
Our problems aren't one-size-fits-all. Our approach to honing focus shouldn't be either. Synaptol's unique multi-targeted approach uses a blend of 15 natural homeopathic ingredients formulated to cover the full mental, emotional, and physical range of focus symptoms specific to the user's needs.
In contrast to conventional stimulant medications, Synaptol's natural homeopathic ingredients work with the body, actually teaching it to resist the symptoms it's most prone to (similar to the way a vaccine works, but without the viral ingredients or the risks). Those symptoms which the body already has a great defense against are not affected by Synaptol, making it extremely safe for those with the most severe focus problems right down to those with minor focus issues. Synaptol won't cause the drowsiness or "zombie-like" indifference some report with prescription medications. Rather, Synaptol targets problem symptoms to help the mind and body restore a healthy, optimal balance.
---
The homeopathic ingredients used to formulate Synaptol are:
Aconitum ferox HPUS, Adrenalinum HPUS, Aesculus hippocastanum, flos HPUS, Apis mellifica HPUS, Argentum nitricum HPUS, Avena sativa HPUS, Baptisia tinctoria HPUS, Cochlearia armoracia HPUS, Phosphorus HPUS, Scleranthus annuus, flos HPUS, Scutellaria lateriflora HPUS, Sumbul HPUS, Viola odorata HPUS
The letters "HPUS" indicate that the components in this product are officially monographed in the Homeopathic Pharmacopoeia of the United States. Each of the above ingredients contains equal volumes of 10X, 30X and 100X potencies.
Synaptol is formulated with active ingredients that have been selected based on their traditional use in homeopathic medicine, as found in the Homeopathic Materia Medica, for self-limiting conditions. Individual ingredient potency is based on the OTC recommendations found in the official monographs on file with the Homeopathic Pharmacopoeia of the United States (HPUS).
Synaptol is intended for temporary relief from symptoms and to support your balanced and integrative lifestyle, including proper diet and lifestyle habits as recommended by health care professionals throughout the medical establishment.
Synaptol safely starts relieving symptoms using a natural homeopathic approach.
To mitigate the risk of negative side effects, Synaptol is prepared with a multi-dilutional process. As a safe homeopathic OTC product, Synaptol is manufactured in compliance with current good manufacturing practice (cGMP) standards.
Synaptol employs a broad approach to homeopathy so as to relieve symptoms in each individual
Traditionally, the homeopathic method of treatment has been characterized by a process of elimination in which individual ingredients and dilutions are used on a trial and error basis until an effective resolution is discovered.
Administering a comprehensive multi-ingredient, multi-potency formula, Synaptol provides a wide range of symptom relief, as opposed to standard homeopathic medicines merely using single ingredients and single potencies to narrow down a patient's treatment.
In addition to this multi-directional technique, Synaptol utilizes a purified ionized mineral water solution with a sublingual absorption capacity to relieve symptoms.
Synaptol uses minute potencies of homeopathic ingredients to mitigate symptoms and provide relief.
With a drastic increase in formulation process technology over the last century, homeopathy has been improved and is now recognized as a viable form of treatment.
The formulation of Synaptol is based upon an intrinsic body response known as the "Law of Similars" to assist natural symptom relief by using recommended dilutions of homeopathic active ingredients. This practice mitigates side effects that are commonly seen in conventional medicines that rely on chemical reactions, which cause side effects as documented in their product contraindications.
Synaptol has no synthetic additives, no artificial coloring or flavoring, and no added sugar or gluten.
The multi-faceted elements that Synaptol offers have proven beneficial for many users in regards to individual response and sensitivity. The principle benefit of homeopathy, and Synaptol in particular, is the ability to experience safe symptom relief without the side effects commonly associated with other medications.
The severity of the condition and other elements of therapy should always be discussed with a health care professional who can provide an accurate diagnosis and suggest an efficient treatment regimen.
---
DOSAGE: Weight Daily Dosage Size:
50 lbs or less ˝ mL twice daily

50 + lbs 1 mL twice daily

You may increase dosage to 3x per day until symptoms improve or as directed by your physician.*

Shake before using. Add recommended dosage into 8-12 oz non-metal container of pure (non-chlorinated) water and drink.

You may also dispense dosage directly into mouth.**
* Excessive dosing may cause mild digestive discomfort
** Synaptol is colorless and flavorless in water but may have a slight tangy taste if taken directly into the mouth. Do not allow the dropper to touch any surface, including the mouth, as it may contaminate the solution.
If pregnant or nursing first consult with your health care professional.
---
Synaptol FAQ

Q: What is Synaptol?
A: Synaptol is a liquid OTC medicine that uses a multi-tiered approach to safely and naturally relieve inattentiveness, hyperactivity, impulsivity, and poor concentration. We stabilize natural homeopathic active ingredients into our organic purified ionized mineral water complex.

Q: Is Synaptol approved by the FDA?
A: Synaptol is an FDA product listed natural medicine and uses an OTC formulation. The active homeopathic ingredients are officially recognized, as listed in the HPUS and Homeopathic Materia Medica. The FDA has regulated homeopathic medicine since 1938 by means of the guidelines in the HPUS, as per the Federal Food, Drug, and Cosmetic Act. Said regulation is conducted in the same manner as that of nonprescription OTC drugs, according to The National Center for Complementary and Alternative Medicine (NCCAM). Synaptol is manufactured and packaged following the FDA's Current Good Manufacturing Practices (CGMP).
Q: How do I take Synaptol?
A: Dosage and directions are included on the label. You can add liquid Synaptol to a glass of purified water, or dispense directly into your mouth.
See detailed instructions in picture below. Avoid contamination: Do not touch the dropper to anything other than the product. (fig. 1,2) When dispensing, squirt the homeopathic into your mouth without touching the dropper to your mouth. (fig. 3) If dispensing directly into mouth is not convenient, you can put the solution into a spoon or a glass of water. (fig. 4,5) Make sure to use non-metallic objects, as the metal can change the product's effectiveness. How to use image After opening: Store in a cool, dry place. Avoid direct sunlight, along with prolonged exposure to high temperatures.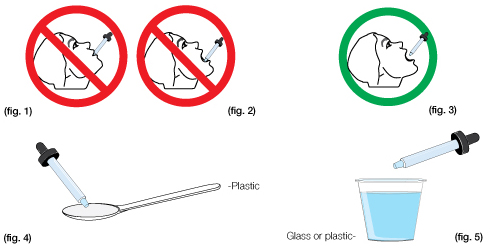 Q: How often do I take Synaptol?
A: For optimal benefit, take Synaptol consistently every day, once in the morning, and again at night.

Q: How soon can I expect to see results from Synaptol?
A: Synaptol is designed to start working with your body to relieve your symptoms. For many individuals, results will be apparent within a few hours of the first dose. Because every person is different, however, the exact time taken for relief is indefinable. Synaptol functions best in a body free of underlying conditions, which can hinder the body's ability to achieve balance. A healthy lifestyle that observes proper nutrition and regular exercise is essential in order to experience the results of Synaptol.
Q: How long does one bottle of Synaptol last?
A: A single bottle of Synaptol is two fluid ounces. The product's dosage is given according to weight. So, if you weigh 50+ lbs, each two-ounce bottle will last approximately one month for one person, depending on your individual health needs and usage.
Q: How much Synaptol will I need?
A: Each bottle of Synaptol offers a one month supply for one adult. Children may need less, and multiple family members taking Synaptol may need more than one bottle per month.

Q: Can children take Synaptol?
A: Yes, Synaptol is OTC formulated for safe symptom relief in adults and children over age 2.
Q: How safe is Synaptol?
A: Synaptol is made with natural ingredients and is, first and foremost, formulated to be safe. Synaptol has no reported side effects or drug interactions, and may be used with other prescription or OTC medications. Synaptol is safe for both adults and children 2 years of age and up.
Q: Has Synaptol been clinically tested?
A: The individual ingredients in Synaptol have claims based on the Homeopathic Materia Medica. As a composite formulation, however, Synaptol has not been clinically tested.
Q: Can I safely take Synaptol with medications?
A: The ingredients in Synaptol are natural and safe, but if you are currently taking prescription medications, we recommend you consult your health care professional before use.
Q: Is Synaptol an herbal remedy?
A: Synaptol is not an herbal remedy. Herbal remedies are based on the herb's use in traditional medicine, while homeopathy uses the "law of similars." Herbs use larger quantities of the product per dose. Homeopathic medicines use minute doses of the substance to address the symptoms. Herbal substances are regulated as food, where as the FDA accepts homeopathic products as drugs.
Q: What is the "law of similars?"
A: The "law of similars" is the idea that like relieves like. Homeopathy demonstrates that a substance that produces a certain set of symptoms in a healthy person can relieve the same symptoms in a sick person experiencing them. The homeopathic medicine is diluted to such minute doses that the ingredients are very safe.
Q: What is "Natural Medicine?"
A: As a natural medicine, Synaptol safely activates the body's natural relief and balance mechanisms, unlike many other OTC formulations that rely on chemical responses to activate or block healing responses, and come with notable side effects, as indicated per their product indications. Natural medicine is safe, and the ingredients in Synaptol are regulated by the FDA according to the guidelines for OTC homeopathic formulation. While "natural" implies indications about the ingredients (Synaptol does contain natural active homeopathic ingredients), "natural medicine" more accurately refers to how the medicine works.
Q: How is Synaptol different from conventional products?
A: Synaptol is intended to safely relieve your symptoms AND promote optimal overall health, while conventional products typically address only the symptoms, and usually with negative side effects, as per product indications.
Q: Is Synaptol a cure?
A: Synaptol is a natural medicine that relieves symptoms of inattentiveness, hyperactivity, and impulsivity, but it is not a cure for any disease or condition. Instead, Synaptol is intended as a component of a healthy lifestyle, safely relieving your symptoms so you can focus on the big picture of your health and life. Choose whole, fresh foods, clean, pure water, and plenty of positive thought and movement, and you will naturally increase the effectiveness of Synaptol and the overall health of your lifestyle, and over time find yourself naturally relieved of symptoms.
Q: What are symptoms?
A: Symptoms are the aspects of illness that you can see and feel; they are the way your body responds to an underlying problem. Although they tend to be negative manifestations, they are actually good in the sense that they are your body's way of telling you what is wrong. Synaptol is intended to help relieve the negative symptoms you are experiencing. When you are no longer hindered by uncomfortable symptoms, you can concentrate on helping restore your body to its healthy balance.
Q: Will this product cause me to experience detoxification symptoms?
A: The purified ionized mineral water base of this product is OTC formulated to initiate a seamless detoxification process, but some sensitive bodies may experience initial detoxification effects. As minerals begin to activate enzymes and chelate toxins and metals, sensitive bodies may experience mild acute symptoms of sores in the mouth (similar to ones caused by eating excessive salty or acidic foods) or loose stools. Help your body through this process by adding more fibrous raw fruits and vegetables to your diet during this time. Symptoms should last only 24 hours.
Q: Does Synaptol come with side effects?
A: According to the National Center for Complementary and Alternative Medicine (NCCAM), a systematic review found homeopathic products such as Synaptol to be generally safe and unlikely to cause severe adverse reactions when taken as directed. Synaptol contains no alcohol, making it superior to many other OTC homeopathic formulations in that regard. While some individuals express concern about homeopathic aggravation (temporary worsening of symptoms after taking a homeopathic medicine), there is little evidence for it in clinical studies. Regardless of Synaptol's safety, it is always important to inform your health care provider about any self-medication you may use.
Q: What do I need to consider if I'm thinking about using homeopathy?
A: There are five important points to consider and act on, as stated by the National Center for Complementary and Alternative Medicine (NCCAM): First, homeopathy is not a replacement for proven conventional care or a visit to your health care professional. Second, research clinical studies conducted around the homeopathic remedies for the health condition you are trying to treat. Third, thoroughly acquaint yourself with any homeopathic practitioner you may visit. Fourth, women who are pregnant or nursing, or those thinking of using homeopathy for a child, should first consult with their health care professional. Fifth, inform all of your health care providers about any complementary and/or alternative practices you use.