Flordis: Legalon 60 Capsules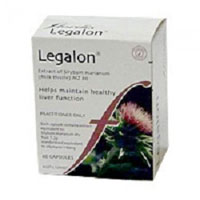 Legalon® (MZ 80) has been shown to help maintain healthy liver function.
1-3 Legalon contains the patented extract of Silybum marianum (Milk thistle) that was developed by the German herbal medicine manufacturer Madaus in 1968.
It is a benchmark product and the majority of published clinical research on silymarin has used Legalon.

What is Legalon used for?
Legalon has been shown in clinical trials to support healthy liver function. Clinical trials have demonstrated that Legalon supports liver health by:
Inhibiting the activation of inflammatory cells
Inhibiting oxidative stress
Inhibiting the activation of hepatic stellate cells that cause fibrosis
Aids renewal of normal healthy liver cells
For full details please visit: http://www.flordis.com.au/product/legalon