Halka B Organic Black Cumin Oil 100ml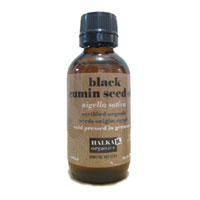 Black Cumin Seed Oil
An unbelievable gourmet seasoning oil that keeps your intestines healthy. That is the reason why thousands of research studies have identified equal amounts of health benefits because every system within your body is depending on a healthy gut. It is an oil that we sell to top chefs and health professionals alike.
Black Cumin Seed Oil that is rightly cultivated and unadulterated has the highest antioxidant level of any plant oils and its extraordinary benefits for regulating our immune system and treating chronic, allergic and hormonal dis-eases are well researched and documented. The amazing healing qualities of Black Cumin Seeds have been well known for millenniums. The prophet Mohammad described it as being able to cure everything except death.
The chemical composition of the black cumin seed oil is diverse. This extraordinary oil contains over 100 valuable nutrients working together in perfect synergy. The most researched active components are Thymoquinone, Nigellone, and Fixed Oils. It also contains in significant proportions protein, carbohydrates, essential fatty acids, calcium, potassium, iron, zinc, magnesium, selenium, vitamins A, B, B2, C and niacin.
Black Seed Oil supports metabolism, improves digestion and lowers blood sugar levels. It is used to dispel worms and parasites from intestinal track; soothe bronchitis, asthma and coughs, increase body tone, increase the flow of breast milk, provide quick energy, increase sperm count, calm the nervous system, encourage hair growth, prevent wrinkles and much more but is main benefit is to support the bodily functions by regulating the immune system.
IMPORTANT: Black Cumin Seed Oil should not be used in therapeutic quantities by pregnant women.