NingXia Red Singles 60ml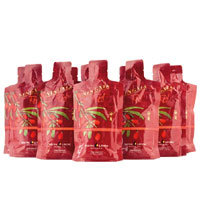 NingXia Red® is a powerful antioxidant drink that contains whole Ningxia wolfberry puree.
For centuries the NingXia wolfberry has been prized as one of the world's healthiest superfruits.
Packed with fibre and boasting off the charts antioxidant levels, the wolfberry is a nutritional powerhouse.
Purified water, Whole Ningxia wolfberry (Lycium barbarum) puree (over 50%), concentrates Blueberry (Vaccinium corymbosum) juice, Pomegranate (Punica granatum) juice, Apricot (Prunus armeniaca) juice, Raspberry (Rubus idaeus) juice, Organic blue agave (A. tequilana) nectar, Grape (Vitis vinifera) seed, skin, and stem, essential oils of Lemon (Citrus limon) and Orange (Citrus sinensis). Preservatives (Potassium sorbate and sodium benzoate).