Service-Plants Beauty-Flower Ayurveda Aromatherapy Oil 30ml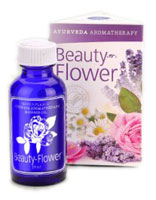 Beauty-Flower Ayurveda Aromatherapy Oil is an elevating blend of floral essences to bring forward your beauty within. Developed as a tridosha formulation that is balancing to all doshas - vata, pitta and kapha.
Ingredients: Sesame Oil*, Sweet Almond Oil*, Olive Oil*, Castor Oil*, Grapeseed Oil*, Rose Essential Oil*, Geranium Essential Oil, Lavender Essential Oil, & Vitamin E Oil.
* Organic ingredients.
Healing to the heart's emotions
Brings beauty and sweetness to the fore
Invigorating & refreshing
Contains only organic base oils, pure essential oils with added natural vitamin E oil.
No synthetic or artificial preservatives or fragrances.
Store away from direct sunlight and heat, below 30°C.
Made in Australia from local and imported oils.
For exteral use only. Apply to the skin, hair and feet.