Service-Plants Immune Support - Ayurvedic Herbal Supplement 500mg 90 Capsules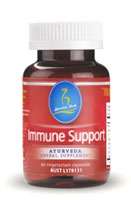 Immune Support is a tridosha proprietary blend of seven organic herbs designed to support the immune system when under stress.
Assists in the maintenance of healthy liver function and general wellbeing.
The formulation strengthens the body's immune system to infection and aids recovery from illness. Immune support has antioxidant and alkalising properties that strengthen and cleanses the body supporting liver function and assisting in the maintenance of clear healthy skin. Immune Support is a specially designed tridosha formulation that is balancing to all doshas - vata, pitta & kapha.
Strengthens the immune system
Aids recovery from illness
Supports healthy liver function.
Promotes clear healthy skin
Gently cleanses the body

Each capsule contains a proprietary blend of organic herbs with Asparagus racemosus (Shatavari), Curcuma longa (Haridra), Zingiber officinale (Sunthi), Elettaria cardamomum (Cardamom), Glycyrrhiza glabra (Yasti madhu), Ocimum tenuiflorum (Tulsi) & Piper longum (Pippali).
All Service-Plants herbs are certified organic and thoroughly tested for heavy metals multiple times at our quality controlled GMP facility.
Immune Support is approved by the Therapeutic Good Administration (TGA) as a listed complimentary medicine in Australia (AUSTL 178131).
Service-Plants supplements come in 100% pure plant-based capsules containing no binders, fillers or gums. They are completely free of sugar, salt, milk, eggs, fish, shellfish, tree nuts, peanuts, wheat, soy, corn, yeast, artificial colours and preservatives. Suitable for vegans.
Take one capsule unto 3 times a day with food. Not recommended for children under 12 years or pregnant or lactating women.