Anxietin 59ml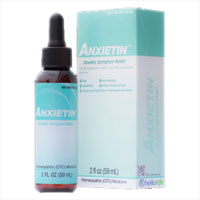 Anxietin Active Homeopathic Ingredients: Aconitum napellus HPUS, Alfalfa HPUS, Argentum nitricum HPUS, Arsenicum album HPUS, Aurum metallicum HPUS, Avena sativa HPUS, Baryta Carbonica HPUS, Calcarea phosphorica HPUS, Chamomilla HPUS, Gelsemium sempervirens HPUS, Glonoinum HPUS, Humulus lupulus HPUS, Ignatia amara HPUS, Kali arsenicosum HPUS, Kali phosphoricum HPUS, Muriaticum acidum HPUS, Natrum phosphoricum HPUS, Passiflora incarnata HPUS, Phosphorus HPUS, Staphysagria HPUS, Stramonium HPUS
The letters "HPUS" indicate that the components in this product are officially monographed in the Homeopathic Pharmacopoeia of the United States. Anxietin's unique multi-potency formula contains three dilutions (10X, 30X, and LM1) of each active homeopathic ingredient, in equal amounts, in one bottle. These active ingredients are stabilized in our purified ionized mineral water base to help maximize absorption. Unlike most homeopathic medicines, Anxietin does not contain irritating alcohol or sugar and has no gluten added.
Unlike conventional prescription medications, Anxietin's natural homeopathic ingredients work with the body, actually teaching it to resist the symptoms it's most prone to (similar to the way a vaccine works, but without the viral ingredients or the risks). Those symptoms which the body already has a great defense against are not affected by Anxietin, making it extremely safe whether you have symptoms of just one, or a mix of two or more, of the following:
Generalized Anxiety: A strong, persistent worry over many things, even when there is no real reason to worry about them. A generally pessimistic view. Always feeling things will go badly.

Social Anxiety: A strong, persistent fear of being judged or of embarrassing yourself. Worry intensely before social events. Avoiding places where people might be.

Phobia: A strong, persistent, and irrational fear and avoidance of a particular situation or object. A disproportional anxiety compared to the actual threat posed.

Panic Attack: Sudden attacks of fear lasting for several minutes. Racing heart, sweating, breathing problems, dizziness, tingling or numbness in the hands, chest or stomach pain.

Depression: A depressed mood that lasts for an extended period and interferes with one or more aspects of your life. Feelings of emptiness, worthlessness, and hopelessness
Anxietin won't make you drowsy and it doesn't cause weight gain, memory loss, sexual dysfunction, or dependency as some prescription medications may. In fact, Anxietin's unique formulation allows it to provide powerful anxiety relief with no negative side-effects at all! Natural homeopathic Anxietin is safe for both adults and children and for added relief in conjunction with any medications you may already be taking. The powerful relief you need, without the side-effects you don't - safely and naturally with Anxietin.
---
Weight Daily Dosage Size:
50 lbs or less ½ mL twice daily

50 + lbs 1 mL twice daily

You may increase dosage to 3x per day until symptoms improve or as directed by your physician.*

Shake before using. Add recommended dosage into 8-12 oz non-metal container of pure (non-chlorinated) water and drink.
You may also dispense dosage directly into mouth.**

* Excessive dosing may cause mild digestive discomfort
** Anxietin is colorless and flavorless in water but may have a slight tangy taste if taken directly into the mouth. Do not allow the dropper to touch any surface, including the mouth, as it may contaminate the solution.
---
Anxietin FAQ
Q: What is Anxietin?
A: Anxietin is a liquid OTC formula with a multi-tiered approach to naturally relieve anxiety, panic and stress and safely support your return to an active, healthy lifestyle. We stabilize natural active homeopathic ingredients into our purified ionized mineral water base to ensure you enjoy relief from anxiety, panic and stress along with support for a positive outlook on life.

Q: Is Anxietin approved by the FDA?
A: Anxietin is an FDA product listed natural medicine and uses an OTC formulation. The active homeopathic ingredients are officially recognized, as listed in the HPUS and Homeopathic Materia Medica. The FDA has regulated homeopathic medicine since 1938. Guidelines in the HPUS and in the Federal Food, Drug, and Cosmetic Act determine which ingredients are used for particular symptoms. The system of regulation conducted is the same as that of nonprescription OTC drugs, according to The National Center for Complementary and Alternative Medicine (NCCAM). Anxietin is manufactured and packaged following the FDA's Current Good Manufacturing Practices (CGMP).

Q: How do I take Anxietin?
A: Dosage and directions are included on the label. You can add liquid Anxietin to a glass of purified water, or dispense directly into your mouth. See detailed instructions in picture below.
Avoid contamination: Do not touch the dropper to anything other than the product.
When dispensing, squirt the homeopathic into your mouth without touching the dropper to your mouth. (fig. 3)
If dispensing directly into mouth is not convenient, you can put the solution into a spoon or a glass of water. (fig. 4,5)
Make sure to use non-metallic objects, as the metal can change the product's effectiveness.
After opening: Store in a cool, dry place. Avoid direct sunlight, along with prolonged exposure to high temperatures.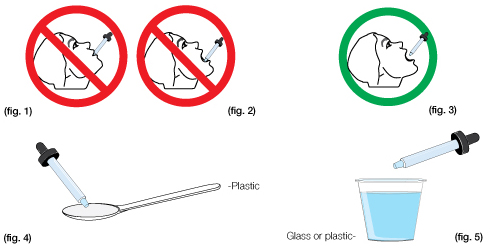 Q: How often do I take Anxietin?
A: For optimal benefit, take Anxietin consistently every day, once in the morning and again at night.

Q: How soon can I expect to see results from Anxietin?
A: Anxietin is designed to work with your body to relieve your symptoms. For many individuals, results will be apparent within a few hours of the first dose. Because every person is different, however, the exact time taken for relief is indefinable. Anxietin functions best in a body free of underlying conditions, which can hinder the body's ability to achieve balance. A healthy lifestyle that observes proper nutrition and regular exercise is essential in order to experience the results of Anxietin. We encourage you to take Anxietin twice daily for 30 days to begin experiencing the results desired. If you do see some improvement, we recommend that you stay with the program for 3-6 months to receive the desired results. .

Q: Can Anxietin be used to treat Generalized Anxiety Disorder?
A: Anxietin is indicated to relieve anxiety, panic and stress including nervousness, irrational fear, mood swings, sensitivity, body tension, and worry. General Anxiety Disorder is defined as a pattern of frequent, constant worry and anxiety over many different activities and events. Generalized Anxiety Disorder can be very serious and should always be attended to by your physician or other specialist. Anxietin is not intended to replace any Generalized Anxiety Disorder medications prescribed by your physician.

Q: How long does one bottle of Anxietin last?
A: A single bottle of Anxietin is two fluid ounces. The product's dosage is given according to weight. So, if you weigh 50+ lbs, each two-ounce bottle will last approximately one month for one person, depending on your individual health needs and usage.

Q: How much Anxietin will I need?
A: Each bottle of Anxietin offers a one month supply for one adult. Multiple family members taking Anxietin may need more than one bottle per month.

Q: Can children take Anxietin?
A: Yes, Anxietin is OTC formulated for safe and effective anxiety symptom relief in adults and children over age 2.

Q: How safe is Anxietin?
A: Anxietin is made with natural ingredients, is non-stimulant, non-drowsy, and provides relief without the negative side effects commonly associated with other anxiety relief medications. Anxietin may safely be used with any other prescription or OTC medications, and is safe for adults and children 2 years of age and older.

Q: Has Anxietin been clinically tested?
A: The individual ingredients in Anxietin have claims based on the Homeopathic Materia Medica. As a composite formulation, however, Anxietin has not been clinically tested.

Q: Can I safely take Anxietin with medications?
A: The ingredients in Anxietin are natural and safe, and have no reported drug interactions. If you are currently taking prescription medications, we recommend you inform your health care professional of your choice to use any natural product, including Anxietin.

Q: Is Anxietin an herbal remedy?
A: Anxietin is not an herbal remedy. Herbal remedies are based on the herb's use in traditional medicine, while homeopathy uses the "law of similars." Herbs use larger quantities of the product per dose. Homeopathic medicines use minute doses of the substance to address the symptoms. Herbal substances are regulated as food, where as the FDA accepts homeopathic products as drugs.

Q: What is the "law of similars?"
A: The "law of similars" is the idea that like relieves like. Homeopathy demonstrates that a substance that produces a certain set of symptoms in a healthy person can relieve the same symptoms in a sick person experiencing them. The homeopathic medicine is diluted to such minute doses that the ingredients are very safe.

Q: What is "Natural Medicine?"
A: As a natural medicine, Anxietin safely activates the body's natural relief and balance mechanisms. Many other OTC formulations rely on chemical responses to activate or block certain responses and come with notable side effects you can read about in the product indications. Natural medicine is safe. The ingredients in Anxietin are regulated by the FDA according to the guidelines for OTC homeopathic formulation. While "natural" implies indications about the ingredients (Anxietin does contain natural active homeopathic ingredients), "natural medicine" more accurately refers to how the medicine works.

Q: What is Integrated Medicine?
A: Integrated medicine is a functional, balanced approach to wellness. Rather than relying solely on conventional methods, such as prescription drugs and surgery, or alternative methods like acupuncture and homeopathy, integrated medicine recognizes the two can work well together. Health care providers who practice integrated medicine will use methods such as homeopathy in complement with more intense and/or invasive treatments.

Q: What is homeopathy?
A: Homeopathy is an officially recognized medicinal therapy using safe, naturally occurring substances to relieve symptoms of self-limiting conditions in the body. Observing the homeopathic dilution process per regulatory guidelines, we formulate the active ingredients in Anxietin for safe and effective relief from anxiety, panic and stress.

Q: What is the homeopathic dilution process?
A:Homeopathic Medicines are believed to be more effective when its active ingredient is diluted. This is the minimum dose approach to homeopathy. The purpose of potency is to dilute the product until it can do no harm to a person. Homeopathic drug potency is indicated by such terms as "10X," 30X," and "LM1." These refer to the amount of times and by what ratio the base substance has been diluted.

Q: What is HPUS?
A: The Homeopathic Pharmacopoeia of the United States (HPUS) is a compilation of standards for the components and preparation of homeopathic drugs. It has been in continuous publication since 1897 and became the official U.S. homeopathic regulatory guideline in 1938 as stated in the Federal Food, Drug, and Cosmetic Act. The HPUS is compiled by the Homeopathic Pharmacopoeia Convention of the United States (HPCUS), a non-governmental, non-profit scientific organization of experts trained and experienced in the field of homeopathy. The HPCUS works closely with the FDA and U.S. homeopathic organizations. Anxietin's active homeopathic ingredients are listed in the HPUS and are officially recognized.

Q: What is "Materia Medica"?
A: "Materia Medica" (Latin) refers to a body of information about medical knowledge. At HelloLife, we refer to specific Materia Medica containing information on homeopathic ingredients. In general, we refer to William Boericke's Homeopathic Materia Medica. The active homeopathic ingredients in Anxietin are recognized by this long-standing Materia Medica and thereby are not required to undergo the same safety and interaction testing as new OTC drugs.

Q: What is purified ionized mineral water?
A: Purified ionized mineral water uses organic trace minerals to supplement the minerals necessary for enzyme functions in the body. The purified ionized mineral water in Anxietin is an effective delivery agent for the homeopathic ingredients, as opposed to alcohol, which is common to most homeopathic preparations but irritating to your system.

Q: How is Anxietin different from conventional products?
A: Anxietin is intended to safely relieve anxiety, panic and stress AND support your body's natural balance. Conventional products typically address only the symptoms, and usuallly with negative side effects, as per product indications.

Q: Is Anxietin a cure?
A: Anxietin is a natural medicine intended to work with your body to relieve anxiety, panic and stress, but it is not a cure. Instead, Anxietin is intended as a component of a healthy lifestyle, safely relieving your anxiety so you can focus on your health and life. Choose whole, fresh foods, clean, pure water and plenty of positive thought and movement. This will naturally increase the effectiveness of Anxietin and the overall health of your lifestyle.

Q: What are symptoms?
A: Symptoms are the aspects of illness you can see and feel. It's the way your body responds to an underlying problem. Symptoms tend to be negative manifestations but can be good in the sense they are your body's way of telling you something is wrong. Anxietin is intended to help relieve these negative symptoms. When you are no longer hindered by uncomfortable symptoms, you can concentrate on helping restore your body to its healthy balance.

Q: Is Anxietin a drug?
A: Because the ingredients in Anxietin meet the "Criteria for Eligibility of Drugs for Inclusion in the Homeopathic Pharmacopoeia of the United States(HPUS)," and that the HPUS is an officially recognized compendium of homeopathic drugs by the FDA, Anxietin is considered an OTC Homeopathic drug. Therefore, it has to comply with the Labeling Guidelines of the FDA. Homeopathic products have been considered drug products since 1938, by authorization of the Food, Drug and Cosmetic Act. It is important to note that, although Anxietin is technically considered a homeopathic drug (remedy) by law, its ingredients are natural and safe for supporting your body's healthy balance. Anxietin is not intended for use in the diagnosis, cure, mitigation, treatment or prevention of any disease.

Q: Will this product cause me to experience detoxification symptoms?
A: The purified ionized mineral water base of this product is OTC formulated to initiate a seamless detoxification process but some sensitive bodies may experience initial detoxification effects. As minerals begin to activate enzymes, chelating toxins and metals, sensitive bodies may experience mild acute symptoms of sores in the mouth (similar to ones caused by eating excessive salty or acidic foods) or loose stools. Symptoms should last no longer than 24 hours. Help your body through this process it by adding more fibrous raw fruits and vegetables to your diet during this time.

Q: Does Anxietin come with side effects?
A: According to the National Center for Complementary and Alternative Medicine (NCCAM), a systematic review found homeopathic products such as Anxietin to be generally safe and unlikely to cause severe adverse reactions when taken as directed. Anxietin contains no alcohol, further limiting irritation to the body. While some individuals express concern about homeopathic aggravation (temporary worsening of symptoms after taking a homeopathic medicine), there is little evidence for it in clinical studies. Regardless of Anxietin's safety, it is always important to inform your health care provider about any self-medication you may use.

Q: What do I need to consider if I'm thinking about using homeopathy?
A: There are five important points to consider and act on, as stated by the National Center for Complementary and Alternative Medicine (NCCAM): First, homeopathy is not a replacement for proven conventional care or a visit to your health care professional. Second, research clinical studies conducted around the homeopathic remedies for the health condition you are trying to treat. Third, thoroughly acquaint yourself with any homeopathic practitioner you may visit. Fourth, women who are pregnant or nursing, or those thinking of using homeopathy for a child, should first consult with their health care professional. Fifth, inform all of your health care providers about any complementary and/or alternative practices you use.